Greetings from Austin, TX!
As a native of San Antonio I've been traveling to Austin since I could drive. There's always somewhere to go, someone to see and a great place to grub.
I was hoping to have the videos of Ryan Stout at Cap City, Kat Ramzinki's Chillin and The Late Slot with Katie Pengra at the Velveeta edited and properly put together in time for this to go live. But with a small team of workhorses we all have a jillion things to do so the video portion of this will be posted next week. SORRY :) Till then here's myself with Doug Benson and Scott Aukerman SXSW 2012.
Basically, I try to scoot down to Austin as much as possible to check out the local comedians or in this case, a very special headliner. When you see Ryan Stout's name on the bill pack your bags and catch him in the beginning because there is something truly special about him. I gushed about him in the last post so not going to say anything else....until next week when we post the videos of our time in ATX.
A special place for comedy, any night of the week you might have comedians like Ron White pop into the iconic Velveeta Room. Located in the heart of downtown at 6th and Red River, the Velv is notorious being the hardest room in the country to play. You would think stumbling drunkards would be a willing and able audience. Think again! For the most part they're in between dollar shot bars and with typically no cover charge, a comedy club like the Velv could be an easy draw to someone looking to have a good time. Here's Janeane Garolofo at the Velv SXSW '09.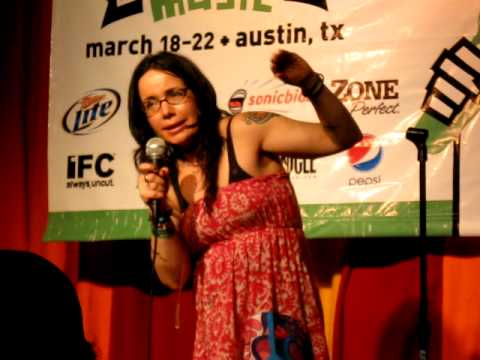 It IS good time, don't get me wrong. I have seen some of the most fantastic shows at the Velv, from headliners to features to open micers, it is truly a unique destination on the comedy map. Whether Ron White (hint hint he's next week's Comic of the Week with Ron White: Unprofessional! We're going to be giving away digital downloads, listen all next week to win) is regaling tales of doing acid there in the 80's, Doug Stanhope recording his very first album there or the Bill Hicks' Principles of Comedy posted in back by J.R. Brow (pic below), the Velveeta Room is the equivalent to lying on a bearskin rug in front of a roaring comedic fire. Home away from home, tell Dana and Mike I said what's up ;)
Now, the illustrious Capital City Comedy Club aka Cap City. Every big name in the box has been here and respectively, took the stage that Bill Hicks called his home club. Here's a very very vintage video of Hicks at Cap City when it was called The Laff Stop.
There's a lot of history in Cap City which, if you are privileged enough to know, makes it all the more special. I'm not too sure what they want revealed and not, so I'm going to keep my mouth shut and just encourage you to check it out. Ask some questions and hopefully someone will divulge the knowledge I didn't come to realize until months and months after working with them. Let's just say Cap City es muy especial. Here's me filming Brian Gutmann c/o Cameron Bucholtz, a preview of what's to come in the video for next week!
The comedians of Austin are the best in the South and anyone looking to do comedy should consider this a place to cut your teeth. Competitive yes, as any good comedy scene should be, but more laid back and accessible than let's say NYC, LA or Chicago. Local king of the scene would be Matt Bearden of the Dudley and Bob Morning Show. He curates a weekly show titled PUNCH! that features the best comics in ATX. Also thought it was pretty cool that the lead singer of one of my favorite bands, Ghostland Observatory, Instagramed his presence at PUNCH! just a few weeks back. Comedy is alive it's ALIVE! Next week when I post the videos will also list some great Austin comics to check out. Till then enjoy our next Host, MC Mr. Napkins! Is it me or is he really cute? Maybe I just have a thing for sharp-tongued, tall, dark, handsome....jk you couldn't pay me to date a comedian. Professionalism is key! Lol...till next week dearies, love you! <3 - Q