Dear Doug Stanhope,
You are a God. Everyhing you do is magic to me, especially this prank interview with Mike Ragogna from KRUU & HuffPost as Johnny Rotten of the Sex Pistols. Fingers, toes, eyeballs and leg hair crossed for "A Very Stanhope Christmas," I'm just saying....
Halloween is next week, a time of year that ranks as one of my favorites. We gather deep cuts from the 24/7 Comedy archives, such as this actual movie spot from 1972 for aaaaaah! Brain of Blood!
The original Guest host, Tom Rhodes, is BACK next week! BAM! Tom has taken his comedy to a whole new level in the past couple of years. Yes, he has indeed come a long way from his days of long-haired playboyishness, though you can still find a flock of women hanging nearby. Tom is charismatic and his on-stage persona is gripping and intense. But funny :) Check him out all next week, particularly the tracks from his latest album, Colossus of Me. Amazing. Photo by Tom's incredible photographer, Ashna Rodjan.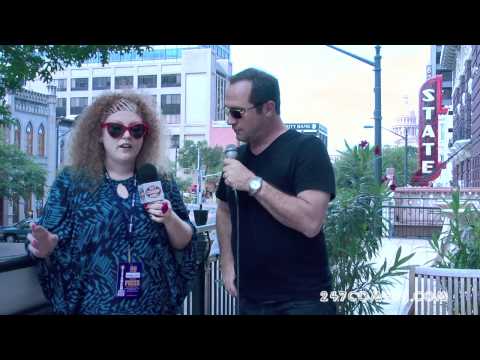 And let's just go ahead and get this out there. Puppeteers are weird. I am a HUGE fan of Jim Henson, Frank Oz and anything they ever touched, but that level of genius is one that can not be compared or matched. Here's one of my favorite costumes ever, me as Miss Piggy, Hosting a benefit for the Martinez Street Women's Center. Photo by Jessica Geisey.
So, back to puppets and puppeteers. They're weird, I love weird, and what better feature for Halloween than Jeff Dunham's Minding the Monsters? We're doing a HUGE giveaway of the special as well as an autographed collection of the dolls! That is so cool! A lot of people try to get to the level of Dunham and he's the only one right now in standup comedy who can pull it off. Voted Most Likely To Succeed, Dunham was able to turn his quirk into one of the biggest names in comedy. PERFECT for Halloween! You'll be able to start registering to win this weekend, keep checking 247comedy.com for details! Happy Halloween!